This is a guide to the language and design elements that make up Miller Edward Rambicure's identity. It includes advice, templates, and sample executions that demonstrate how to bring our brand to life.
This logo is the guiding post for the Miller Edwards Rambicure brand. It is our primary logo for all communications.
Our symbol is decisive. Emphatic. Strong. It can be used alone in instances in which size is limited or the name is already present.
The logotype rendered here can be applied on its own or paired with the symbol.
Always keep a standard amount of clear space around the logo, measured by twice the height of the M.
To protect the integrity, legibility, and impact of the Miller Edwards Rambicure identity, the logo, logotype, and symbol should never be applied at a smaller size than shown.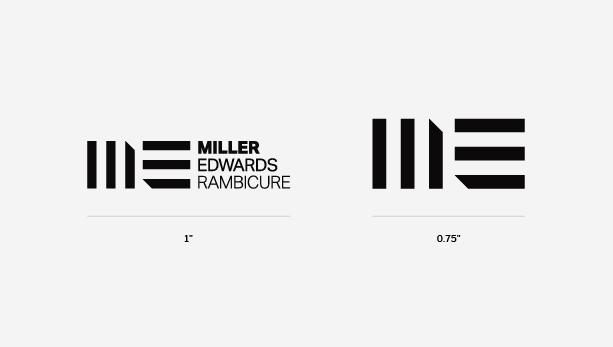 1. Do not stretch or skew the logo.
2. Do not pull apart the logo.
3. Do not color the logo.
4. Do not rotate the logo.
5. Do not add elements to the logo.
6. Do not adjust letter spacing
in the logo.
7. Do not outline the logo.
8. Do not add drop shadows
to the logo.
Color has enduring emotional appeal. Miller Edward Rambicure's colors are aggressive. By pairing the colors consistently, you can reinforce brand recognition.
Black
Pantone 433
CMYK 76 / 63 / 55 / 24
RGB 9 / 10 / 10
HEX #0C0D0E
Grey
Pantone Warm Grey 1
CMYK 3 / 3 / 6 / 7
RGB 227 / 225 / 219
HEX #D7D2CB
Red
Pantone 1788
CMYK 0 / 88 / 82 / 0
RGB 237 / 46 / 56
HEX #EE2737
Color works differently in print than on screen, so you'll need different color codes for each.
Pantone (PMS)
The Pantone system is used for precise color matching – you can give a Pantone reference to any printer, anywhere, and they'll print the exact same color.
CMYK (Cyan/Magenta/Yellow/Black)
The print files will be delivered in CMYK color mode, which is suitable for commercial full color and everyday printing.
Note: If you try placing a CMYK file into a Microsoft Office program and the image doesn't display correctly, try the RGB version.
RGB (Red/Green/Blue)
These colors are used in monitors, television screens, digital cameras and scanners. Digital logo files are in RGB color mode.
HEX (Hexadecimal)
This six digit code is associated with websites, viewed on a screen, and refers back to the RGB color.
Fonts express as much as words. They convey feeling, establishing a consistent and ownable visual language.
Use Roboto Bold for headlines. Use Roboto Light for body copy.

Intentional photography in a consistent style enhances our brand. Our photos are characterized by motion.
Our tagline is intended for widespread internal and external use. It is the introduction to our guiding spirit.